So during 2010 I hardly got to pick up my needle. This year, not only am I hopefully back on track with being able to stitch, but I've got my first finish AND it's hardanger, something I've always wanted to try, but never felt I'd be able to do.
One of the ladies on the forum I belong to made this lovely design called 'Delft'. She's SO talented! So here is my attempt at it.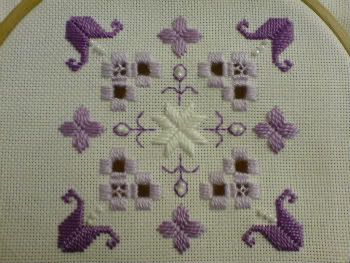 I've never done any embroidery before. Cross stitch is as far as I've ever delved into the world of stitching, but I have to say I have found a real love for hardanger.
I need to learn the basic stitches and also get more practice at it, but for my first attempt, I'm well happy with the results.
Onto the finishing next! It has to be edged with either blanket stitch or knotted blanket stitch, neither of which I've ever done.
Now I'm musing on whether to get back to my WIP's that have been neglected last year, or whether to allow myself another 'fun' project first.
I'll think about that today.
Yesterday I was happy to get a cook book I'd ordered recently. It made me think that instead of going on a diet straight away, I'll get back to the basics with this 'home cooking' book and see if that helps with my weight ... along with some exercise on the Wii fit of course.
I was also really happy to recieve 2 books with CD's in the post, which I intend to use as lessons with Joe.
Awhile ago now I recieve quite a large order from a book club, a set of books all paid for but nothing to do with me! I had someone elses order.
I had to go to a bit of trouble to get them to come get the books as it got a bit complicated, with me not even being a customer of theirs since Tom was small. So anyhow, the manager decided I should be compensated for my trouble and I chose these books.
Wasn't that kind of them. I didn't expect anything back, but she said, you could have kept them, so this is to show appreciation for your honesty ... of course though, I wouldn't have done that. It would be wrong.
I'm really happy with these books though.
:)